MADNESS DAY 2020 has come and gone, and in it's wake we've seen a tremendous amount of animation, artwork, and music hit the portal. I'm floored by the turnout. Having seen Madness become somewhat tired over the last decade, I was excited to see that this whole year isn't just a shot in the arm to the fandom, it knocked the damn limb off! We've seem some of the best stuff come out of the fandom in the last week, not even speaking with hyperbole or exaggeration. That said deciding the winners for this Madness Day was a grueling affair the likes of which caused me legitimate psychic torment. I want to preface all this by saying I'm stunned by the participation and every single one of you deserves a goddamn medal.
---

Animation: 
1st - $416.90 Dusk of the Madness: OVERTIME
2nd - $250 Madness Redeemer 2: Revenger
3rd - $150 Devastation.fla
4th - $100 Take out the Mates
5th - $65 Madness: Madlads
6th - $50 Outlaw madness II
7th - $35 PROJECT: Felony
HONORABLE MENTION:(THEY WERE ALL SO GOOD, LOOK)
Madness: BLACK BERSERK EP1 (FUCKIGN MECH BATTLE!!???)
---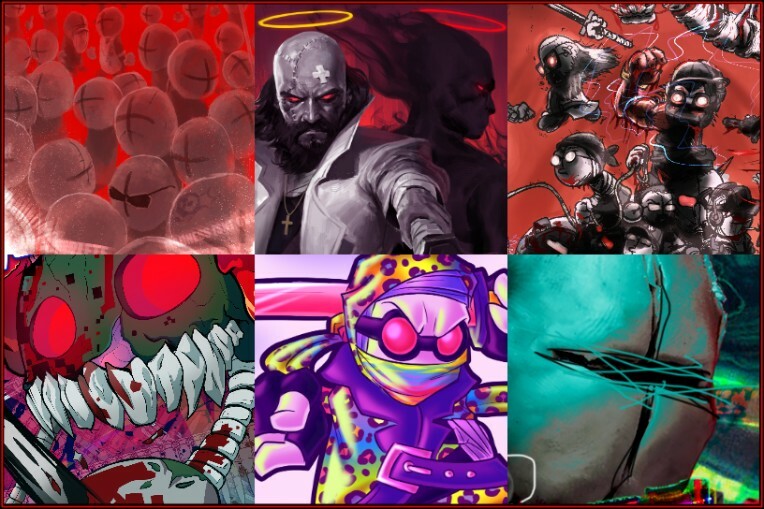 Art:
1st - $200 We All Live In A Mad World
2nd - $125 God Complex
3rd - $100 Welcome to Nevada
4th - $75 Remember Who You Are
5th - $25 Lisa Frank Madness
6th - $25 Madness D2020
PICKING HONORABLE MENTIONS IN THE ART DEPARTMENT IS A FOOL'S ERRAND. THE ENTIRE DAY WAS WALL TO WALL SOLID WITH STELLAR CONTENT, GO HERE AND SEE, I'M NOT CRAZY!
---
Music:
1st - $100 SIN BONUS TRACK| RyuuAkito - Sirens in the Colorblind Wasteland (CRY.NN Midtempo Remix)
2nd - $50 PROJECT: M.E.R.C. OST
3rd - $25 Dystopia
4th - $25 Cerebral Cobweb
Also, in regards to music, one HELL of an album was collaboratively put together by a group of audiophile madness fans. The entirety of the album can be listened to front to back right here.
ALSO WE WERE BLESSED WITH A GAME SQUEEZING INTO THE LINE UP, GO GIVE IT A LOOK!
Did you like the banner we had up this year? That was a collaborative effort from people within the community! If you'd like to download it, click here!
I will be contacting the winners via Newgrounds Private Message to arrange payment via Paypal. In the event of collaborative efforts I will be contacting the organizer.
Thanks for everything.
exhale, and post...