MADNESS DAY 2022 IMMEDIATE THOUGHTS:
Holy smokes. I woke up today with a rather sizable chunk of videos presented to me that we didn't even get to during a seven and a half hour stream! This weekend I'm absolutely going to be spending a lot of time pouring over what has yet to be seen, and filling the spreadsheet for the judge panel to work with. We should have a final count of entries before long. Frankly I'm stunned. My right-now thoughts are that I'm practically frozen, beset on all sides by intense greatness. I figured time would have taken a lot of the steam out of the enthusiasm but I was egregiously incorrect. You guys made this year something SPECIAL, once again.
The front page for animations alone shows off some seriously powerful work, but that's only the surface. There's so, so much here... Animations, games, music, and EVEN A COUPLE GAMES! We have a lot to witness, here.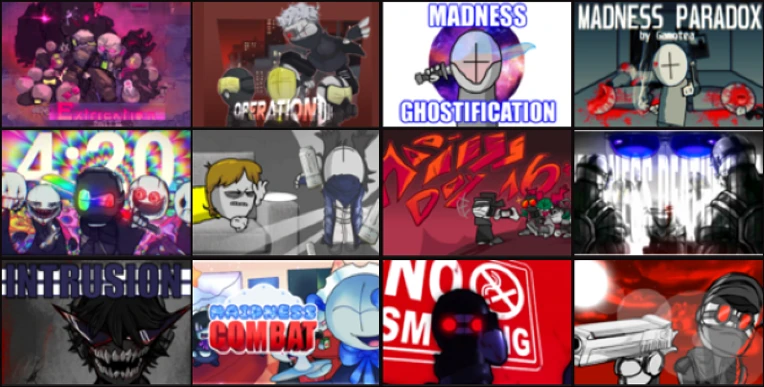 Also a point of note; The SIN3 Album dropped and it's sick.

https://www.youtube.com/watch?v=3VxM1Wp-onU
---
Prizes, as they stand;
FINAL POOL as of 09-23: $2025
Animation
1st - $405
2nd - $200
3rd - $150
4th - $105
5th - $85
6th - $50
7th - $25
8th - $20
9th - $15
10th - 10
Art
1st - $175
2nd - $100
3rd - $75
4th - $50
5th - $35
6th - $20
7th - $15
8th - $10
Music
1st - $175
2nd - $100
3rd - $75
4th - $50
5th - $35
6th - $20
7th - $15
---
Rules for prize eligibility; We can only consider Art, Animation, and Music entries posted ON SEPTEMBER 21st, 22 or 23 (we can probably wiggle the days around). Be sure to tag your entry with "madness-day-2022" so that we can find it. I can issue prize payment only in Paypal, Venmo, or Cashapp. Collaborative efforts that place will have the prize money sent to the collab organizer for them to distribute as they see fit. Multiple entries are permitted but an individual can only win one place.
---
And, of course, if you haven't seen it yet; Skel Studios produced a promotional trailer for M:PN, and it's unreal;
https://www.youtube.com/watch?v=CrBiokcY_9s
---
Also, the final count for submissions flying under the Madness-Day-2022 tag;
695 Art Submissions
117 Animations
5 Games(!!!)
72 Music Entries.